Travel Padlocks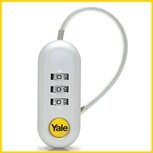 The Yale travel Padlocks are perfect for transatlantic travellers. They are easily identifiable and convenient to use.

They can be used for locking luggage, sports bags and computer bags
TSA is the Transport Security Administration of the USA. TSA recognised locks incorporate a security system from Travel Sentry which enables security personnel to examine the contents of your luggage without forcing your lock or damaging your bad, Your bags can then be re-locked and sent quickly on their way.