Master Key Lock is a developed system that allow one user to have an access to all areas with only one key, rather than having one specific key for each door.
How useful is Master Key Lock for you?
Well, if you are an owner of a company and you have many different departments that means you have a key for each department and a key for each door. Any small company could have at least 5-20 doors, in other words 5-20 keys.
With Master Key Lock, no need to have all those keys, its only 1 key you have that opens all your doors any time you want.
What is Grand Master Key?
Grand Master key is the Master Key for different Master Keys. Technically speaking a master key designed to fit a number of different master-keyed systems of locks is termed as Grand Master Key. A large firms have different departments and each department have a manager who should have access to the offices within his/her department that mean he/she need to have a Master Key, and this scenario is same for all other departments. The CEO/Managing Director/General Manager as well needs to have an access for all departments including the managers office. Here arises the need to have a key that can access all the offices/departments, that key is Grand Master Key.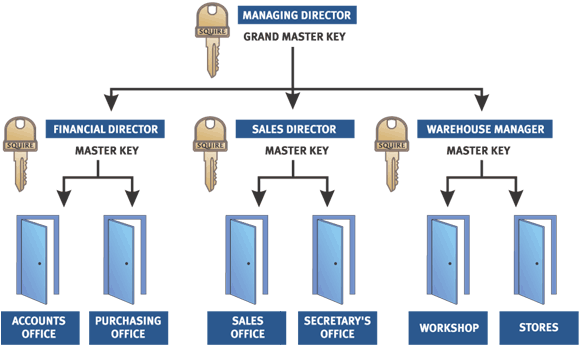 Key Alike System
Key Alike System is an extra feature considered as an extra security. This option provides "same key" convenience and eliminates the need for multiple keys where numerous padlocks are used. All padlocks in the set are opened by the same key. .If you require 100 door lock, in general every door lock would have 2 keys with it. In a Key Alike System, you have 1 key that will open all 100 doors and the individual keys of the lock gets cancelled. This is an advanced system that gives the owner more security.
Key Alike System is not only used for cylinders, as well as for padlocks also.
Kindly feel free to contact our sales department in order to get any more inquiry.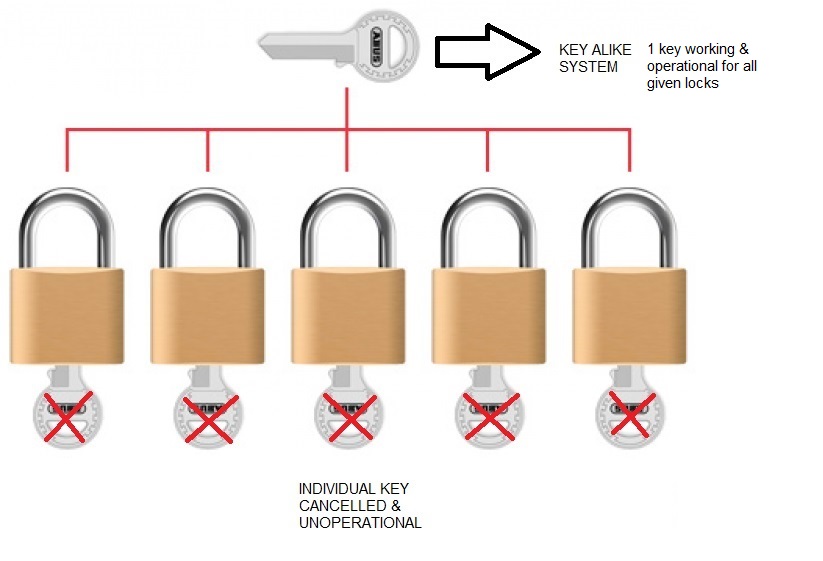 Keyed Different
Each lock is opened by its own unique key that does not open any other lock in the set.
Keyed Different is the standard keying default on Master Lock padlocks.
No products found.